The Quest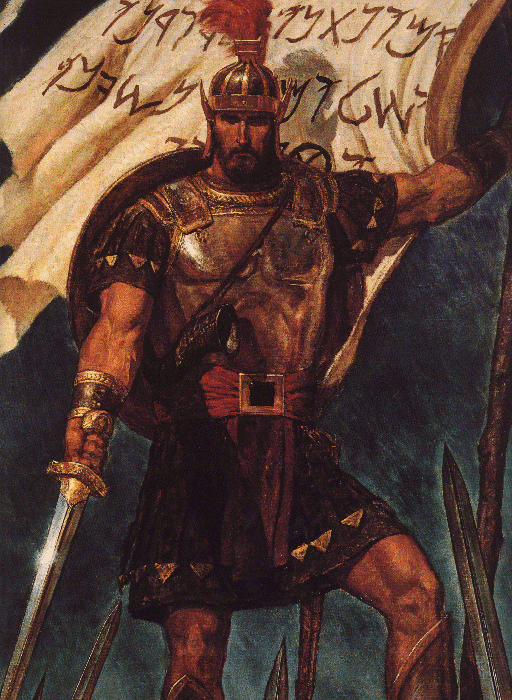 To be all that you can be, you must realize, your true eternal potential, self imposed limitations, maliciously laid stumbling blocks and embrace eternal growth principles.
---
Eternal Potential; We are all truly sons and daughters of God. God, as our father, loves us and wants us to be truly happy. This happiness can only be gained by becoming like Him. God is not bored and simply created man to fill a void, to require admiration and respect and humor him by obedience or acceptance as God. The other creatures on this earth do a much better job of that than mankind. He is not playing a game of hide and seek, having split himself into two parts, mankind and God, now trying to gain reunification. He has created mankind with a loving purpose in mind. Like our earthly fathers, God has created us with the intent that we grow, learn, mature and eventually obtain all that he has, through obedience to eternal laws. He truly has a plan for us to return to him, by becoming like Him. The question has been asked, If God has a plan why haven't all his children been given a copy of the lesson plan? The answer to that is simple. We have!
The purpose of this earth life is simple. We all must receive a body and overcome the temptations of carnal man. We must become masters over the flesh. (sounds like Buddhism) We must take the light of Christ as our guide. All of mankind must be washed clean through the ordinance of baptism and the cleansing by fire of the Holy Ghost. (as did Jesus Christ) All of mankind will be changed from mortal man to immortal man through the resurrection. These are the required basic steps that make up the purpose of this life. All of mankind, from the most dedicated Christian, to the aborigine living on an isolated island having never heard of Christ will be provided with this basic plan. This life can be likened to military basic training. All of Gods children will be provided with this basic training. All of Gods children who embrace the basic training will be given the opportunity to move on to advanced training, either in this life or the next. All of Gods children, after receiving the advanced training, and then proving to be true and faithful in all things, will then become joint heirs to all that he has. We are all truly Princes and Princesses of God, in training for the throne, future Kings and Queens if and when we embrace the training program provided and prove true to the test. This is our eternal destiny.
D&C 84:38; And he that receiveth my Father receiveth my Father's kingdom; therefore all that my Father hath shall be given unto him.
Titus 1:2; In hope of eternal life, which God, that cannot lie, promised before the world began.
Matthew 25:34; Then shall the King say unto them on his right hand, Come, ye blessed of my Father, inherit the kingdom prepared for you from the foundation of the world:
John 3:16; For God so loved the world, that he gave his only begotten Son, that whosoever believeth in him should not perish, but have everlasting life.
John 14:2; In my Father's house are many mansions: if [it were] not [so], I would have told you. I go to prepare a place for you.
---
Limitations; As part of our earthly training all of us have been given limitations that we must learn to deal with. Many of these limitations can be overcome. Some limitations, physical, mental or spiritual, cannot be overcome in this life and must be recognized and worked around. Most of the limitations that we must deal with are self imposed and must be overcome. For the most part this means that the carnal, natural man must be overcome.
"Our unique human endowments lift us above the animal world. The extent to which we exercise and develop these endowments empowers us to fulfill our uniquely human potential. Between stimulus and response is our greatest power—the freedom to choose." 7 Habits; Stephen R Covey.
2 Nephi 9:39; O, my beloved brethren, remember the awfulness in transgressing against that Holy God, and also the awfulness of yielding to the enticings of that cunning one. Remember, to be carnally-minded is death, and to be spiritually-minded is life eternal.
---
Stumbling Blocks; Stumbling blocks are a common tactic used by humanity to promote oneself over others. In an attempt to excel above ones pears stumbling blocks are placed to hamper the progress of others. The very foundation of this tactic is based on selfishness. Stumbling blocks come in many forms. Some of the more basic forms are; lies, deceptions and half-truths. In addition to our fellow man Satan has used this tactic to accomplish his end. He would like no more than the complete and total failure of Gods plan for us. In an attempt to accomplish this he places stumbling blocks for all mankind.
Satan's Plan: Dominion of mankind. This being the first, and last, stumbling block for all of God's creations. The Mahan Principle, to get gain via dominion or subjugation of men (even through death). Man was created to be Free. Freedom is a Fundamental Eternal Principle. Satan's plan is to gain exaltation through the dominion of mankind by taking away man's freedom . Our first vigil must be opposition to any system that embraces the Mahan Principle like Marxism, Socialism, Communism, progressivism (the veiled path to socialism) all of which are methods to take away liberty/freedom in the very name of liberty/freedom. The key to this opposition is understanding the difference between systems that use the Mahan principle vs. system that are attempts at providing social order and freedom for the larger whole, at the expense of some individual freedoms. The key to understanding the difference is asking the question are the actions taken voluntary or coerced, were the individual freedoms given up (and are able to be restored) through a democratic process or dictated by an autocrat or via judicial fiat, the latter of which fits the Mahan system. We must be vigilant in our embrace of Republican Freedom models.
The most formidable deception used by Satan, as far as our eternal progression is concerned, is the half-truth of what is truly required for salvation and exaltation. To reduce the Gospel to a mere acceptance of the Grace of God, is a very damaging half-truth indeed. I believe it is this practice that Isaiah is referring to. Isaiah 28:20 "For the bed is shorter than that [a man] can stretch himself [on it]: and the covering narrower than that he can wrap himself [in it]."
"Our knowledge and understanding of correct principles is limited by our own lack of awareness of our true nature of the world around us and by the flood of trendy philosophies and theories that are not in harmony with correct principles.......Do not submit ourselves to any programming that is not in harmony with our basic center or that comes from sources centered on money-making, self interest, or anything other than correct principles.." 7 Habits; Stephen R Covey
Neal A. Maxwell, A Wonderful Flood of Light, p.73 - p.74
"Not only was Jesus a stumbling block to the Jews and foolishness to the Greeks, but also Jesus' teachings offended many (see 1 Corinthians 1:23; Romans 9:33). Such ancient attitudes have their modern counterparts, because the things of the Spirit are still foolishness to the natural man. Jesus observed of Himself and His work, "Blessed is he, whosoever shall not be offended in me" (Matthew 11:6)."
I believe that there has been a falling-away, an apostasy from the original gospel of Jesus Christ. For over eighteen-hundred years "orthodox Christianity" has been so effected by Greek philosophy that its doctrines now include many concepts that Evangelicals believe to be biblical which in reality have no scriptural basis whatsoever. The following is a list of items that I feel fall under the title of non-biblical in origin:
The Trinity: an incomprehensible conglomeration of the three into one substance, essence, or nature--co-substantial, co-equal, and co-eternal—remains one of the two most telling legacies of the Apostasy in Christianity today. The Trinity is based on heresy embraced by the council at Nicaea in 325 A.D. The Nicene concept was viewed as a major theological change by many bishops of the time, and resulted in even more dissension than it was meant to quell. Constantine was forced to replace dissenting bishops with ones willing to support the new creed. The following scriptures are good examples contradicting the Nicene creed.
Matthew 17:5 While he yet spake, behold, a bright cloud overshadowed them: and behold a voice out of the cloud, which said, This is my beloved Son, in whom I am well pleased; hear ye him. (is God a ventriloquist trying to deceive man?)
John 28 Ye have heard how I said unto you, I go away, and come [again] unto you. If ye loved me, ye would rejoice, because I said, I go unto the Father: for my Father is greater than I.
John 17 Jesus saith unto her, Touch me not; for I am not yet ascended to my Father: but go to my brethren, and say unto them, I ascend unto my Father, and your Father; and [to] my God, and your God.
Acts 7:55-56 55 But he, being full of the Holy Ghost, looked up stedfastly into heaven, and saw the glory of God, and Jesus standing on the right hand of God, 56 And said, Behold, I see the heavens opened, and the Son of man standing on the right hand of God.
Dispensationalism: The brain child of Lewis Sperry Chafer is at odds with the teachings of Paul to the Galations. It is clear that there has been and will be but one way for the salvation of mankind and it is in and through the atoning sacrifice of Jesus Christ. The law of Moses was never intended to bring salvation to the house of Israel but only to lead them to their savior. We know that the law of Moses (Galatians ) … was our schoolmaster [to bring us] unto Christ, that we might be justified by faith. We know that there have been different dispensations when God has revealed the word of God to His children, but there has only been one way for them to gain salvation.
Salvation by GRACE alone: The Positionalist belief of once saved always saved is in contradiction to the laws and ordinances required for salvation. Men through their choices decide their final destinies. God has provided a way for men to repent, endure, learn obedience and cleanse their robes in His blood. If they choose humbly to obey His commandments and follow Him, then (and only then) will they have the assurance of the Holy Ghost. With that assurance, then man knows that they have been saved and will yet obtain their "full reward" "Not every one that sayeth to me "Lord, Lord, shall enter into the kingdom of heaven;" it is not all those who will say unto him in that day, "Lord, Lord, have we not prophesied in thy name? and in thy name have cast out devils? and in thy name done many wonderful works?" It is not all these whom the Savior will recognize and acknowledge, and whom he will admit into his presence and into his kingdom; but it is those that do the will of his Father in heaven; it is those that enter into the straight gate and that walk in the narrow way, and that persevere unto the end, denying themselves and overcoming every evil inclination, and bringing their dispositions into complete subjection to the mind and will of God, bringing forth the fruits of righteousness; for every tree will be known by its fruits. No corrupt tree can bring forth good fruit; no good tree can bring forth evil fruit. We must all maintain the humble attitude Paul expressed in Philippians 3:12-14.
Matthew 7:21 Not every one that saith unto me, Lord, Lord, shall enter into the kingdom of heaven; but he that doeth the will of my Father which is in heaven.
Matthew For I say unto you, That except your righteousness shall exceed [the righteousness] of the scribes and Pharisees, ye shall in no case enter into the kingdom of heaven.
Phil 1 Cor 11:2 Mark -16 John 3:5 2Peter
---

Sanctification Through Overcoming
In the Book of Revelation it is written that he that overcometh shall "eat of the tree of life," receive "a crown of life," not be hurt of the second death. He shall receive of the "hidden manna," a "white stone," and a "new name," shall have "power over the nations." He shall be clothed in "white raiments," and his name will "not be blotted out." "To him that overcometh will I grant to sit with me in my throne, even as I also overcame, and am set down with my Father in his throne." (Rev. 3:21. Italics added.) How glorious and rich are the promises to those who overcome!
Revelation And I saw the dead, small and great, stand before God; and the books were opened: and another book was opened, which is [the book] of life: and the dead were judged out of those things which were written in the books, according to their works.
Equally damaging to our eternal progression are the events surrounding the second coming of Christ and our required role therein. Many nurture the common misconception that preparation for the second coming of Christ is not required. They having accepted Christ into their life with an open exclamation that Christ is their savior, think they have now been identified and selected for a secret rapture that will protect them from all events surrounding the second coming. They think they have no need to prepare for the deceptions of the Anti-Christ. They think they have no need of the mysteries of God that will be revealed in preparation of this great event. They think they have no need to discern from the miracles wrought by the servants of God and the servants of the Anti-Christ. They have been deceived.
Isaiah 14 And he shall be for a sanctuary; but for a stone of stumbling and for a rock of offence to both the houses of Israel, for a gin and for a snare to the inhabitants of Jerusalem.
Isaiah 57:14 14 And shall say, Cast ye up, cast ye up, prepare the way, take up the stumblingblock out of the way of my people.
Ezekiel 3:20 20 Again, When a righteous [man] doth turn from his righteousness, and commit iniquity, and I lay a stumblingblock before him, he shall die: because thou hast not given him warning, he shall die in his sin, and his righteousness which he hath done shall not be remembered; but his blood will I require at thine hand.
---
Eternal Growth Principles; The one thing that all of humanity will eventually recognize is the fact that there are eternal truths that govern all things. Many civilizations have tried various rules and regulations to obtain happiness, but the only true road to happiness is through adherence to eternal principles. Beyond true happiness, if that is possible, there is the fact that all things are governed and ruled by eternal principles, and all things are subject to them. Only through embracing these eternal principles can we reach our true destiny. The full Gospel of Jesus Christ, with all its ordinances, rules and regulations, contains these eternal truths.
1 John 5:11; And this is the record, that God hath given to us eternal life, and this life is in his Son.
2 Nephi 25:23; For we labor diligently to write, to persuade our children, and also our brethren, to believe in Christ, and to be reconciled to God; for we know that it is by grace that we are saved, after all we can do.
2 Nephi 28:30; For behold, thus saith the Lord God: I will give unto the children of men line upon line, precept upon precept, here a little and there a little; and blessed are those who hearken unto my precepts, and lend an ear unto my counsel, for they shall learn wisdom; for unto him that receiveth I will give more; and from them that shall say, We have enough, from them shall be taken away even that which they have.
2 Nephi 31:17-21; 17; Wherefore, do the things which I have told you I have seen that your Lord and your Redeemer should do; for, for this cause have they been shown unto me, that ye might know the gate by which ye should enter. For the gate by which ye should enter is repentance and baptism by water; and then cometh a remission of your sins by fire and by the Holy Ghost. 18; And then are ye in this straight and narrow path which leads to eternal life; yea, ye have entered in by the gate; ye have done according to the commandments of the Father and the Son; and ye have received the Holy Ghost, which witnesses of the Father and the Son, unto the fulfilling of the promise which he hath made, that if ye entered in by the way ye should receive. 19; And now, my beloved brethren, after ye have gotten into this straight and narrow path, I would ask if all is done? Behold, I say unto you, Nay; for ye have not come thus far save it were by the word of Christ with unshaken faith in him, relying wholly upon the merits of him who is mighty to save. 20; Wherefore, ye must press forward with a steadfastness in Christ, having a perfect brightness of hope, and a love of God and of all men. Wherefore, if ye shall press forward, feasting upon the word of Christ, and endure to the end, behold, thus saith the Father: Ye shall have eternal life. 21; And now, behold, my beloved brethren, this is the way; and there is none other way nor name given under heaven whereby man can be saved in the kingdom of God. And now, behold, this is the doctrine of Christ, and the only and true doctrine of the Father, and of the Son, and of the Holy Ghost, which is one God, without end. Amen.